Leader-In-Training Program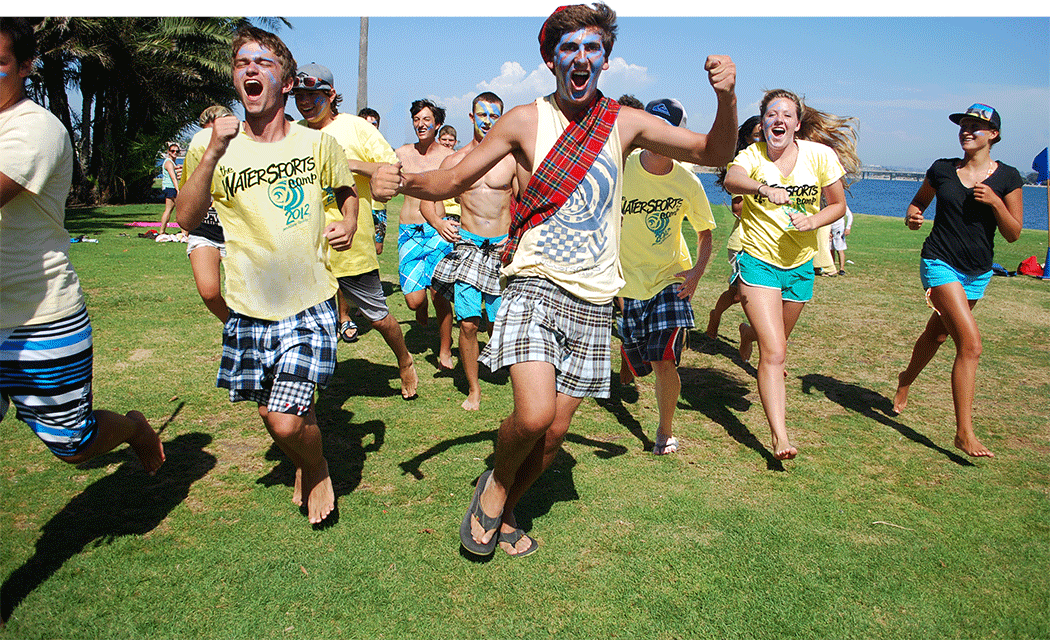 Campers ages 14 to 17 are invited to participate in our Leader-In-Training (LIT) Program. This program is an amazing opportunity to learn teamwork, gain new skills, and create long-lasting friendships with other teens. LITs not only help create outstanding experiences for our campers, but they also develop many amazing memories of their own while boosting their resumes and college applications!
Rates
Rates vary between $20-$150 based on the activity and dates of service.
Leader-In-Training Requirements
To become a Leader-In-Training you must:
Be 14 to 17 years old at the time of service
Have attended The Watersports Camp as a camper prior to their week(s) of participation
Attend a required in-person training in spring prior to participation.
Camp Tip:
This program is extremely popular and is subject to space availability!
A Typical Day as an LIT
LITs are an integral part of the camp experience and assist in many aspects of camp. In addition to helping create amazing camp days for our campers, LITs also have the opportunity to learn new skills or further develop their skills in sports they are passionate about.
LITs arrive each day at 7:30am and assist with the set up of morning activities. They will then spend the morning paddling, sailing, or assisting their assigned group's activities. In the afternoon LITs may stay with the same group to assist with the afternoon multisport activities or may be placed with another group where more LITs are needed. LITs who have completed the Sailing Qualification will most likely be placed with sailing groups in the morning and afternoon.
While we work to ensure LIT requests for groups or activities, we cannot guarantee we can accommodate all requests.
Sample Schedule
7:30am: LIT arrival, meet up with other LITs in your group and prepare for morning activity
8:00am -11:00am: LITs will assist campers with their morning activity, helping with groups such as wakeboarding, surfing, paddling, sailing, or Intro to Watersports.
11:00am -11:30am: LITs all meet together for lunch and help counselors prepare the group for their afternoon activity.
11:45am - 3:00pm: LITs assist with designated afternoon group activities, including the inflatable obstacle course, sail day, surf day, paddle day, or STEM day.
3:00pm-3:30pm LITs regroup to help facilitate end-of-camp day tasks such as assisting campers with pickup, de-rigging sailboats, or meeting with their LIT teammates to discuss the day's activities.
LIT REQUIRED TRAINING
All LITs, both new and returning, must register for and attend one in-person training in spring prior to participating as an LIT. There are 3 options to attend the required training in spring. At training, LIT candidates will learn the various tasks and duties that LITs perform and will learn what it takes to be successful as a leader in a camp setting. LITs will also have an opportunity to meet and get to know other kids participating as an LIT!
Required Training Dates (select one)
Spring 2024 Training Dates TBA
OPTIONAL SAILING QUALIFICATION
LITs who have completed at least Basic Sailing and Adventure Sailing are encouraged to register for and complete the optional sailing qualification. LITs who successfully complete the sailing qualification will be assigned to assist with sailing activities in the morning, can take campers for sailing rides in the afternoon multisport sailing groups, and receive a discount of 25% or more off LIT fees at registration. The qualification sessions are scheduled to occur following the Required Training and will consist of rigging and de-rigging a Hobie Cat and safely sailing to Fanuel Park and back.
This option is great for LITs looking to meet more of their LIT peers and who love sailing!
Optional Sail Qualification Dates (select one)
Spring 2024 Sailing Qualifications Dates TBA
Summer Weeks of Service
Summer Week 1 - June 12-16, 2023
$100
SAILING QUALIFIED DISCOUNTED RATE
$75
Summer Week 2 - June 19-23, 2023
$100
SAILING QUALIFIED DISCOUNTED RATE
$75
Summer Week 3 - June 26-30, 2023
$150
SAILING QUALIFIED DISCOUNTED RATE
$100
Summer Week 4
- July 5-7, 2023
*
$90
SAILING QUALIFIED DISCOUNTED RATE
$60
*3-day Week - No Camp July 3-4
Summer Week 5 - July 10-14, 2023
$150
SAILING QUALIFIED DISCOUNTED RATE
$100
Summer Week 6 - July 17-21, 2023
$150
SAILING QUALIFIED DISCOUNTED RATE
$100
Summer Week 7 - July 24-28, 2023
$150
SAILING QUALIFIED DISCOUNTED RATE
$100
Summer Week 8 - July 31-August 4, 2023
$150
SAILING QUALIFIED DISCOUNTED RATE
$100
Summer Week 9 - August 7-11, 2023
$150
SAILING QUALIFIED DISCOUNTED RATE
$100
Summer Week 10 - August 14-18, 2023
$75
SAILING QUALIFIED DISCOUNTED RATE
$40
Summer Week 11 - August 21-25, 2023
$50
SAILING QUALIFIED DISCOUNTED RATE
$35
FALL DATES OF SERVICE
September Enrichment - Wakeboarding
Saturdays - September 9, 16, 23, 30 8am-11am
October Weekend Enrichment - Wakeboarding
Saturdays - October 7, 14, 21, 28 8am-11am
*LITs who participate in one of the two Enrichment Camps this fall will be invited to participate in Wakesgiving, on November 19th, for free! LITs can choose either the morning wakeboarding session from 8:30am-11:30am, or the afternoon tubing and kneeboarding session from 12:30pm-3:30pm.
REGISTRATION
LITs use the same registration form as all campers to register for the LIT program. Campers ages 14 and older will see the LIT Training and Sail Qualification registration options at the top of their list of available camps. You will then register for weeks of service as an option in each week. The fees to participate are listed above. There is no fee for Training and Sailing Qualification participation.
Please use your current account instead of creating a new account so we can verify your past attendance in camp.  If you have forgotten your password you can reset it at https://watersportscamp.campbrainregistration.com/Home/ForgotPassword. If you are unable to access your account you can confirm the email address associated with your account by calling us at (858) 539-2003.
If you have any questions please feel free to contact us at litprogram@watersportscamp.com or by phone at (858) 539-2003.
Thank you for your interest in becoming a LIT!
Frequently Asked Questions
There are literally a boatload of reasons you might want to participate in the Leader-In-Training program! For some, learning teamwork and leadership skills that can be applied as you enter the workforce is an important factor. Others may be looking for community service/activities to include on college and job applications. For most, the idea of participating in activities that they love while having an amazing time meeting other teens and giving back to a program they themselves participated in as a kid is the main reason for participating.
The LIT program can be all of these things and more, depending on what your own goals are for participation!
Registration for LIT Training, Sail Qualification and Spring LIT opportunities opens on Friday, February 10th, 2023 at 8:30am. Registration for summer weeks of service opens on Monday, March 6, 2023 at 8:30am.
It is important for LITs to know and understand the activities, culture and how camp operates at The Watersports Camp prior to participating as a leader at camp. They can then share this experience while being a leader to new campers, just like they had when they were at camp! LIT Training can teach the basics, but this important experience cannot be learned in a morning of training.
Yes! We encourage motivated LITs who are having a great time to participate as much as possible based on space availability!
LITs are assigned to groups each morning based on where they will most be able to assist. While we do our best to accommodate group/activity requests, we cannot guarantee that we can accommodate all requests. You can submit a request for a group/activity by including a note in the Special Request field during registration, by emailing us in advance at LITprogram@watersportscamp.com, or letting the LIT Lead know on Monday morning.
You do not need to know how to sail to be an LIT. For LITs who know how to sail and would like to be grouped with the sailing activities, they can participate in the Optional Sailing Qualification after Training! Sailing-qualified LITs also receive a discount when registering.
If it is necessary to miss a day for any reason, please let us know at (858) 539-2003 so that we can ensure the group you were with knows you won't be there.
If a late arrival or early pick up is necessary, please plan to arrive or leave during the lunch period between 11:00am - 11:30am. Please alert the LIT Lead, or call our office at (858) 488-1000, in advance so we may plan accordingly.
As long as LITs will be 14 years old by the first day of their week of service they can attend training and sail qualification when they are still 13. You will only be able to see LIT opportunities where the camper will be 14 years old at the week of service. They will be hidden for weeks before the LIT turns 14.
Yes. The Watersports Camp is a 501c3 non-profit serving youth in San Diego. After your service is complete, email litprogram@watersportscamp.com to request a letter with your hours of community service.
Cancellations 5-days prior to program start or earlier: Full-Refund
Cancellations less than 5-days of program start: 50% Refund
Cancellations after program start: No Refunds
Illness policy: We take the health and safety of our participants and staff seriously. Should your participant become ill we will provide a refund for up to 2 weeks of illness. No doctor's note is required. Please do not attend programming if your participant is ill.
Weather Cancellation Policy
Our camps are designed to operate outside. In the event of adverse weather, regularly scheduled activities may be cancelled or modified. In the case of rain or other conditions that may prevent the ability to hold outdoor programming, you will be notified of the cancellation of activities. Please have a back up plan ready in the case of cancellation.