General Information
Camp Description
The Watersports Camp is an exciting day camp offering kids ages 6 to 17 camps in wakeboarding, sailing, surfing, paddling, marine science and much more. The camp is held at the Mission Bay Aquatic Center, which is owned and operated by Associated Students of SDSU and UCSD Recreation, and the camp is sponsored by the YMCA.

As one of the biggest watetsports camps in the world, thousands of kids have jumped their first wake or caught their first wave at The Watersports Camp. Camps run daily, Monday to Friday from 8 a.m. to 3 p.m. Full-day and half-day camp options are available.
Where we meet
The Watersports Camp meets at the Mission Bay Aquatic Center at 1001 Santa Clara Place, San Diego, CA 92109. Check in at the blue tent on the lawn adjacent to MBAC at the South end of Santa Clara Point. Please see our Directions page for a downloadable map and our Parking page for parking tips and procedures.
Swim Requirement and Assessment
Campers must be water safe to participate in The Watersports Camp. There will be a swim assessment on the first day of camp consisting of swimming approximately 50 meters followed by comfortably treading water. The assessment is performed on the MBAC dock area and is meant to determine your camper's comfort in the water. There is no specific stroke or time limit for the assessment. A camper only has to participate in the swim assessment once and will be checked off for future camp weeks.
We have found that comfort in the water is an important factor in a camper's enjoyment at The Watersports Camp. If your camper is nervous about the assessment, or may not have a lot of experience in ocean or bay settings, it may be helpful to come down to MBAC to take a look at the swim assessment location. Talking to your camper in advance of the swim assessment can go a long way in giving them confidence. If you have concerns about the swim assessment, you can arrange for your camper to take the swim assessment in advance of your week of camp, or for swimming instruction, contact Peninsula Family YMCA at (619) 226-8888 or the Aztec Aquaplex at SDSU at (619) 594-7946.
Physical Requirements
The activities at The Watersports Camp require swimming, walking or running over rough or uneven surfaces, involve exposure to salt water, cold water, sun, wind, sand, seaweed, sea grass, ocean currents, sea creatures, breaking waves, and other outdoor elements.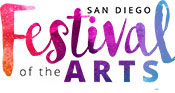 We encourage all children to participate. If campers have needs that require special consideration, parents must contact the Camp Director at least 7 days in advance of attendance so we can ensure the availability of necessary staff and equipment.
Inclusion Assistance provided by the San Diego Festival of the Arts Foundation. Funds raised from the festival provide inclusion assistance at The Watersports Camp and other sports programs for persons with disabilities throughout San Diego. To learn more please visit sdfestivalofthearts.org/.
Waiver and Medical History
Every camper will need a medical history/check-out permission form and release agreement form signed by a parent BEFORE your child will be allowed to participate in camp. Campers who will be bringing medication to camp will need to have a signed Authorization to Administer Medication form on file. Only a parent can sign the waiver and medical history form, and medical history, so if you will not be with your camper on the first day of camp, it is important to be sure to send the properly completed forms in advance, or along with the camper on their first day of camp. Verbal authorization or signatures from anyone other than a parent or legal guardian are not acceptable alternatives. Legal guardians, other than parents, must provide a certified copy of their power of attorney. To take advantage of express check-in, submit your completed forms in advance by fax at (858) 488-9625, or by email at info@watersportscamp.com.
Transfer Policy
Should your camper wish to change sports during their week of camp, their transfer will be subject to availability and require approval from the Youth Programs and Events Supervisor. If you have registered for a future camp and you would like to change in advance of that week, you can request a transfer by calling (858) 539.2003 and speaking with our front desk. *Note: all transfers are subject to availability and are not guaranteed once registration has reached its maximum capacity.
Cancellations 5-days prior to program start or earlier: Full-Refund
Cancellations less than 5-days of program start: 50% Refund
Cancellations after program start: No Refunds
Illness policy: We take the health and safety of our participants and staff seriously. Should your participant become ill we will provide a refund for up to 2 weeks of illness. No doctor's note is required. Please do not attend programming if your participant is ill.
Weather Cancellation Policy
Our camps are designed to operate outside. In the event of adverse weather, regularly scheduled activities may be cancelled or modified. In the case of rain or other conditions that may prevent the ability to hold outdoor programming, you will be notified of the cancellation of activities. Please have a back up plan ready in the case of cancellation.
Financial Assistance
Camperships are available for families in need of financial assistance. Please see the Camperships page for more information.
Can't find what you're looking for? Contact us at (858) 539-2003 or by email at info@watersportscamp.com.